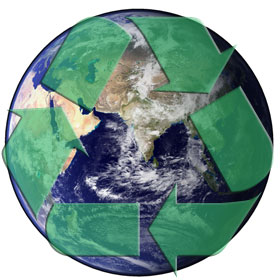 The Greenest Multi-Gym on Earth
We believe that you can't take care of your health and fitness without taking care of your environment. That's why everything we do is based on sustainability. As a result, the OmGym Suspension System is the greenest, most ethically-produced fitness and health product available!
How?
Compared to bulky home-gyms, heavy inversion tables, and permanent yoga-wall systems, which consume tremendous amounts of energy and raw materials when manufactured and shipped, the OmGym Suspension System's ultra-portable design makes it significantly lighter on the planet and your pocketbook.
Even better: OmGym is the only company using sustainable materials to produce aerial / anti-gravity / suspension-training products. Unlike others, whose materials are made from newly-drilled petroleum, we use 100% recycled nylon parachute fabric. As a result, you get a sturdy product that gives a second life to handsome, high-quality materials!
Social Responsibility
We care for our planet. And we care for its people. Products designed to make you healthy and happy shouldn't harm the people who produce that product.
That's why at every step in the process, OmGym treats its employees, vendors, and manufacturers as partners, honoring their contributions and ensuring fair compensation and opportunity, so everyone can be proud of the final product…including you!
Our Commitment
As we develop new products and grow, we are committed to expanding our socially and environmentally responsible practices. In this way, we all can feel good about making a difference in this world, and we add to the impressive list of companies that thrive while caring for people, planet, and purpose!