Event Services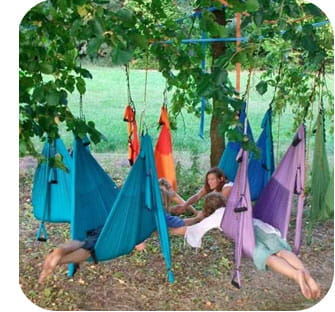 Bring flying fun and fitness to your event!
The OmGym Event Team gives event attendees an exceptionally memorable, healthy and joyful experience. Whether you are preparing for a festival, conference, or special fundraiser, everyone can have a blast by taking OmGym Classes or playing in the OmGym Zone.
The OmGym PT Zone offers personalized movement instruction for all. Each visitor receives a mini training session guiding the body through healthy, fun, and energizing movement. Attendees often come again and again over the course of the event, enjoying the playful adventures of OmGym Suspension and Training
Our classes bring interactive diversity to event entertainment. We aim to delight both specific and mainstream audiences and in-turn increase event attendance and recognition. Additionally, offering OmGym Classes will inspire health awareness and highlight your event's eco-savvyness.
Our Current Class Menu:

Suspension Yoga
Restorative /SY1010: (gentle) Mostly grounded, with great emphasis on relaxation, alignment and restoration using Iyengar-inspired techniques
Asana Lift /SY102: (all levels) A traditional yoga posture mix enhanced with stabilization techniques and some flying challenges
Flying Vinyasa /SY103: (advanced) A fusion of aerial yoga and dance with gravity assisted flow
Partner /SYP104: Massage, oscillation, and traction using the OmGym Suspension System to support your partner
Suspension Fitness
Suspension Fitness /BTSF1: (mixed levels) A fun fusion of flying fitness moves, including strength and core training, dance, and stretching techniques
Athletic Conditioning /BTAC1: Supports healthy athletic training based upon sports-specific need. Classes work to balance strength, range of motion, and fully integrate core power into athletes' movement patterns. Must specify sport/type of athletic performance upon booking.
Details for event producers:
Space/Rigging Requirements: For class consideration, structural support must be provided by the event. Exposed structural ceiling joists maximize set-up options. Lag screw eyebolts can also be used to secure rigging in structures with unexposed joists. Domes and pavilions may be used for outdoor festivals. Larger domes will accommodate larger class sizes. We have used Pacific Domes in the past and recommend their quality of structure. Minimum per-person spacial requirement is 4' wide by 6' front-to-back, with an 8 foot high ceiling height. Spacial requirement is greater with a greater ceiling height.
Class Duration: A full class is 90 minutes. Class length and timing can be adjusted to accommodate event demands. For largely populated events with limited spacing, class times can be reduced to as little as 15 minutes each with 5 minutes of space between each class.
Fee Structure: First 1.5 hour class is $350, including one certified instructor and one assistant. Additional travel fees may apply. Each additional hour of instruction is $100. Portions of instructional hours are pro-rated. For events requiring more than one certified instructor, initial rate applies per instructor. Fees may be reduced depending on publicity options offered in support of OmGym International LLC.
Insurance: OmGym is covered by product liability insurance of up to $2,000,000, with $1,000,000 per occurrence. Any third party featuring our equipment is covered under this policy. No claims have been made.
When rigging is not available, we recommend setting up an OmGym Zone with Personal Training Stations.
OmGym Zone: Each visitor to the OmGym Zone receives the chance to enjoy OmGym movement techniques with the guidance of an OmGym Instructor. For this option, the OmGym Team will provide:
the self-supporting stands/rigging equipment as necessary
up to 8 hours/day of instruction
entertaining demonstration when Suspension Systems are not occupied by attendees
Fees: This OmGym Personal Training Station is available for $80/hour per instructor. A minimum of two instructors per event is required for a minimum of 5 hours each. Fees may be reduced, depending on publicity options offered to OmGym International LLC. Fees also may be partially offset via equipment sales at approved events. Please note: Children's events require additional staff.
We look forward to collaborating for a successful event. Please contact us with any questions or creative ideas you would like to share with us. To invite OmGym to an upcoming event or for more event information, please contact us below:
Event Services Inquiry Form