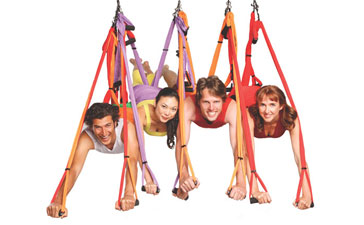 Who We Are
OmGym LLC is a progressive leader in the health & fitness industry. Since 2005, we have operated with a commitment to support others in reaching their goals while using the best equipment on the planet.
Our core team is composed of dynamic fitness and wellness enthusiasts, passionate about OmGym's innovative products and services. Each of us are excited to offer equipment and programs that can truly make a big difference.
Our professional network of OmGym Representatives, Affiliates, and Resellers includes chiropractors, personal trainers, physical therapists, medical doctors and yoga instructors. Inspired by a vital mission, our extensive network of health care and movement professionals is rapidly growing worldwide.
Mission
To inspire joy within movement!
To offer the most effective, versatile tools for health and fitness anywhere you go.
To create eco-friendly and affordable fitness solutions for all.
Our Story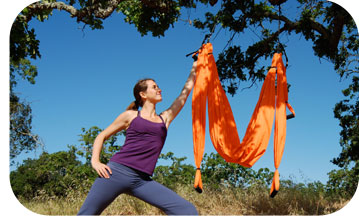 In 2005, OmGym Foundress Sarah Kellett, ERYT-500, discovered the dynamic art of suspension and realized it to be crucial in her own path of recovery. She had previously spent years exploring rehabilitation methods after a car accident left her with painful compression injuries and spinal misalignment.
Informed by her extensive background in Athletic Therapy and Yoga, she then implemented and built upon the age-old practice of inversion and traction therapy, which reaches all the way back to ancient Greece and Hippocrates, the "father of medicine." (Hippocrates may have been influenced by an even older tradition. Indian yogis had been using ropes and vines to assist in their exercises for thousands of years). In the modern era, world-famous yoga teacher B.K.S. Iyengar popularized the use of rope and fabric slings to help with inversions and a great variety of suspended and supported yoga poses.
Ms. Kellett combined the most effective elements of these traditional ideas and expanded upon on them to catalyze her own rehabilitation program. Her rapid healing soon gave way to an even more amazing development: a pain-free recovery with greater strength, flexibility, and success than she'd dreamed of!
What was the secret? The use of variable support allowed her to fearlessly integrate new movement strategies. She was able to use gravity as a means of decompressing spinal impingements, while gently expanding her range of motion, deepening her awareness of her own center of gravity, and rebuilding the stabilizing muscle groups essential to optimal recovery and beyond. She used traditional exercises and yoga poses as a departure point, but later integrated many therapeutic and fitness techniques to evolve this practice.
Inspired to share her new ways of healing with her community, she later founded OmGym LLC, with the enthusiastic commitment to offer the greatest of healing and personal fitness tools worldwide. She began by recreating, refining, and adding to the design of the devices she used on her own road to recovery based upon the understood principles of biomechanics, comfort, and elegance. As a result, the most user-friendly, portable, adjustable, versatile, attractive and eco-friendly multi-gym on the planet, now known as the OmGym Suspension System, is available for all to enjoy. To this day, Ms Kellett and the OmGym Team continue to develop and enhance tools for optimal performance and well-being.
Since its launch in 2006, OmGym has touched the lives of thousands of people, whether they own an OmGym Suspension System or have experienced using one in a program or class.
With great support from our enthusiastic community, OmGym continues to grow and expand its offerings, from specialized instructional programs, to accessories and lifestyle gear that support our mission.
Products & Programs
Our high standards are reflected by our quality materials and design. Our commitment to excellence is shown through our fun and informative movement programs. Whether you're a grandmother, professional athlete, a dedicated yogi, or a child, OmGym's Products and Movement Programs are developed to support your fitness, health, and happiness.
The core of our approach is based on the OmGym Suspension System, a revolutionary tool offering an almost infinite range of exercises, yoga support, aerial dance routines, and therapeutic movement programs.
Offering far more versatility than any exercise machine, a full spectrum of difficulty settings can be attained by any body type using the OmGym Suspension System…
All of this comes in a compact, lightweight carry bag you can literally take anywhere on Earth...
Each program offered by OmGym is written using the OmGym Suspension System and its accessories to help you attain the goal of your choice.
Whether you'd like to lose weight, stand taller, enhance brain function, or stabilize your core, it can all be done with our revolutionary equipment.
This is evolution in exercise.